A UPGRADED ECOMMERCE WEBSITE FOR A NEW TIME IN RETAIL AND COVID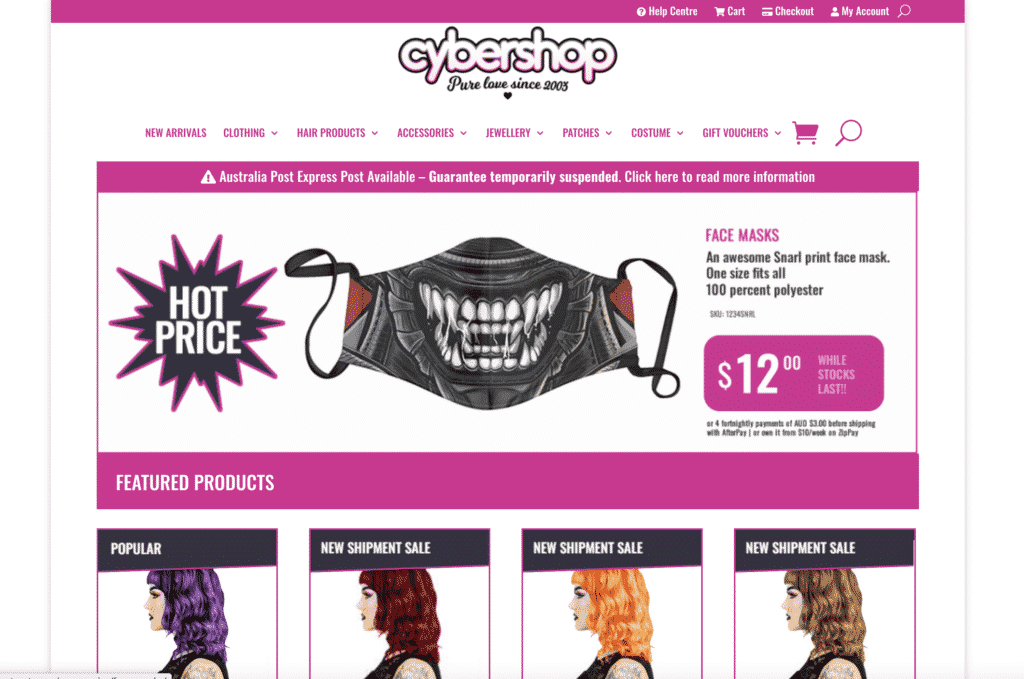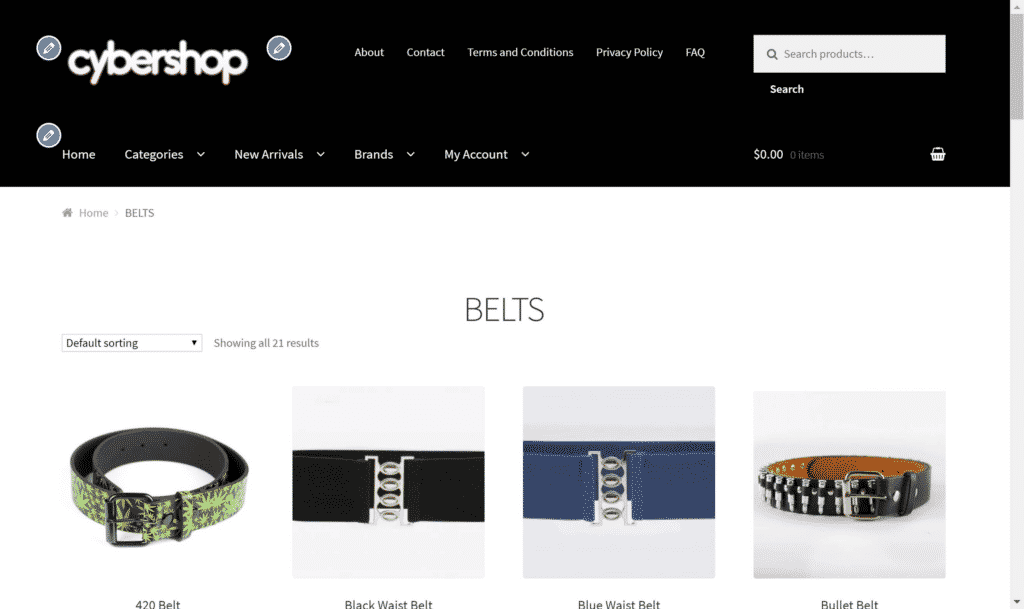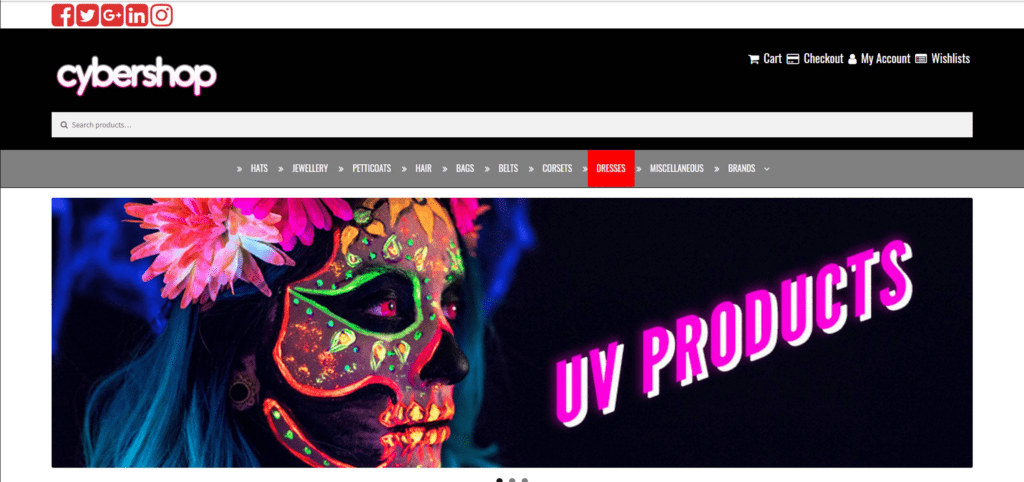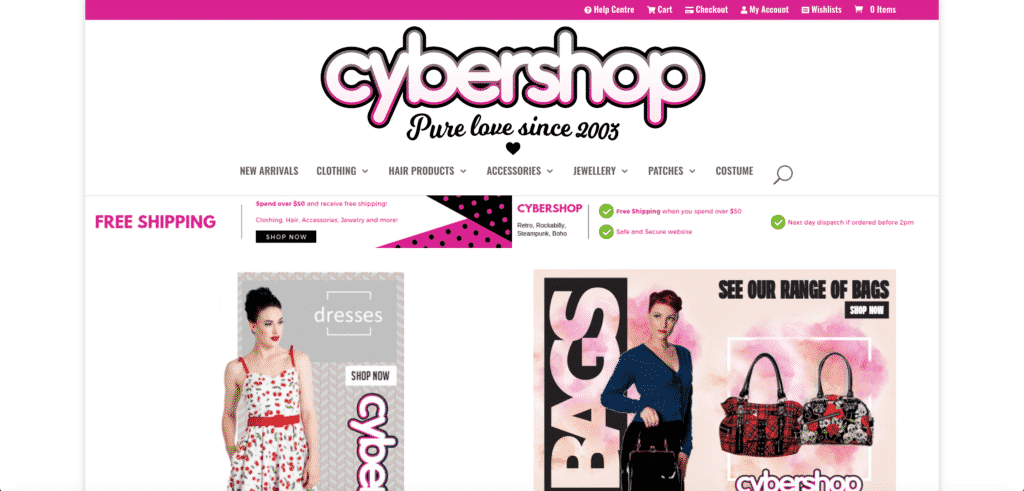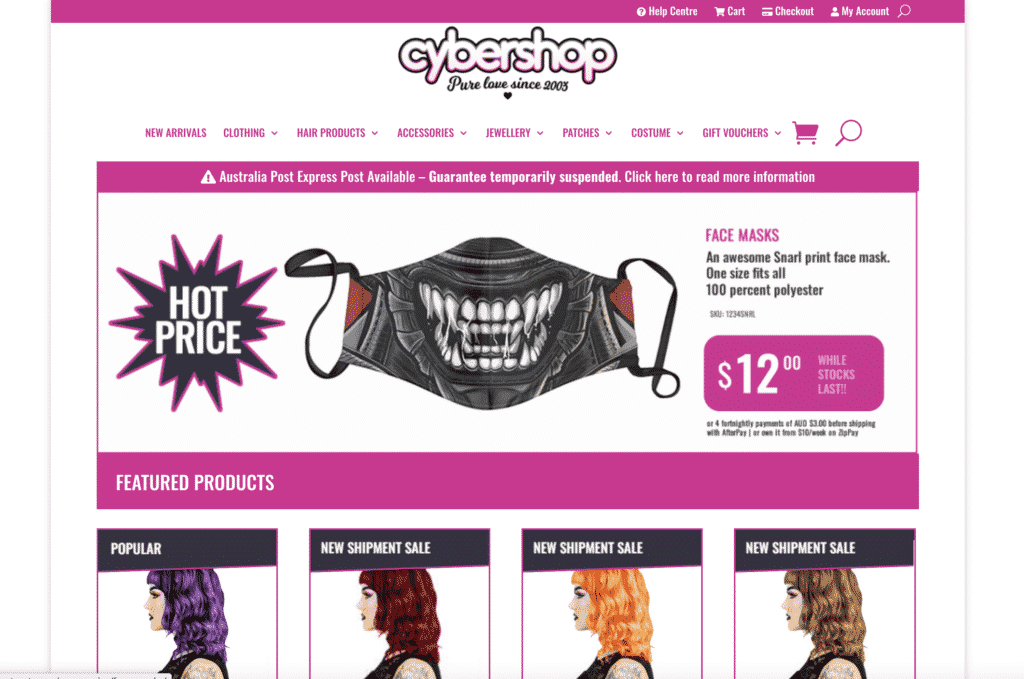 A Upgraded Ecommerce Website for a New Time in Retail and COVID
Pivoting a Business
We met Cybershop Australia all the way back in March 2018! Cybershop Australia was in distress with a poorly performing online presnece that was hindering the business more than adding to its offering to their awesome fans. I was introduced by a networking partner to help out Cybershop and when I arrived it was a mess, the design and build was not completed, the site was missing any sort of collaboration with the retail stores and the owners had spent up to $25,000 on a underwealming, under performing website, which was incomplete.
When I was approached to help this business out, I knew it was going to be baby steps, as the owners had completely been put off any investment in the online store. I had to turn this around, so I started planning baby steps forward.
The first thing we did, was complete and in a way a face lift to the online store. Getting things to work that didn't and a completed design that at least half way represented the brand.
I trained several staff in managing products and handling orders, even though there were lucky to get an order.
We completed the first redesign and late 2018.
Since 2018, the business has continue to evolve both in website design and the ever shifting landscape of the retail market, moving from permenant stores in Penrith and Erina, to pop-up stores in Shell Harbour and Wollongong. Cybershop is always on the move with expos, fairs and exhibitions showcasing their unique 50'2, Rockabilly, Steampunk alternative fashion gear all over Australia.
In 2019 we decided it was time for another revision of the website design, to align with the brand further, and upgrade the look and feel for the user experience as we were now getting more visitors than ever. The 2019 redesign was essentially the complete reshape of the website to give the user a better experience, and we succeeded, getting more orders than before.
2020 has seen exponential growth, with over 200 orders per month through the website, all the hard work and expansion with marketing has started to pay off. We just completed another redesign to continue to evolve the experience, we now are on Google Shopping and continuing to expand with a Marketing manager to improve the social presence.
We will continue to evolve the platform with new technologies, with setting up a POS/Warehouse system, recently launching gift vouchers, and Live sales and promotions.
Challenges and Objectives
The challenges that we were faced were not only technological, but financial and business impacting. The website that Cybershop got for that amount of money was definatley not even in the range of the pricing, but lack of knowledge and over promising and a level of trust in the supplier of the original website unfortunatley led to the mess left behind when I was introduced to Cybershop Australia.
Trust is hard to establish any other day, but it was an important objective to gain the owners trust that I can help them not only with the website, but offer real world pricing and help improve the impact to business in a major way.
We started working together on objectives to fix the website initially to get it operational, then once we had established a good working relationship move forward with redesign and untangling the 'web' that had been created.
How our Services Helped Cybershop Australia's objectives
Our services fitted well with the objectives for the business which were:
Consultation and auditing
Make the existing website functional
Be priced properly
Help move the business online with the retail downturns being noticed
Be competitive online and on par with other websites
Over the course of the last 2 years we have worked extremely closely with the team to ensure we are continously meeting the business objectives with the technology offiering, and be price competitive.
We also have helped the team with off-site marketing, working with our social media manager, and google partners to improve the customer experience and ultimately the conversions.
Our Results
Our results are proof we can help a business get off its back and onto their feet showing you below the visitors have gone from < 50 visitors per day to now over 500 with a conversion rate of 2.3%. Revenue has gone from <$1k per month to > $10k and growing every month with now over 300 hundred orders per month.
Future Plans
We have a very close relationship with Cybershop Australia. With the significant growth of the online store we are now spending more time with the customer, and helping with other duties such as product loading, and generally managing all the IT requirements for them. We intent to launch a warehouse and POS solution soon which integrates to the store and continue to improve the existing design challenges such as speed and performance and continue to grow the business online with a target of 100+ orders per day
We love working with Cybershop Australia and long into the future. Thank you Cybershop for choosing us, your #1 WordPress Specialist for Macarthur.